High School Coaching Highlights
Since 2002, Kris has coached 60 individual pole vaulters that qualified and competed at the UIL and TAPPS State Championships. Of those 60, Kris's vaulters have brought home 15 Gold Medals, 10 Silver, and 6 Bronze, for a total of 31 Medals
Ariana Ince became the first girl in the history of Texas to sweep the pole vault at the State Championship all 4 years from freshman to senior year in Class 3A, finishing high school with a PR of 12'6. She was awarded a scholarship to Rice University where she competed and was a multiple Conference USA champion finishing college with a PR of 13'5
Britni Lawrence set the Texas girls' state record seven times en route to becoming the first high school girl in the state of Texas to clear both 12 feet and 13 feet, winning the Texas 5A State Meet twice in the process and finishing with a 13'1.5(4.00 meters) PR. She was named All-American at the Nike Indoor and Adidas Outdoor National Championships. Despite a chronic injury, she received a scholarship and vaulted for Texas Tech and Texas State, earning Big XII honors at Tech and All-Conference Honors at Texas State
Jason Colwick improved from a PR of 15'6 his junior year prior to working with Kris to 17'0 with Kris in just one year, winning the Texas 5A State Meet his senior year. He was awarded a scholarship to Rice University and went on to clear 18'9 in winning two NCAA National Championships and has competed at the U.S. National Championships and Olympic Trials
Jessica Doyle jumped 12'6.5" as a 14 year old freshman, a youth record that still stands nationally and won a bronze and silver medal in Class 5A at the State Championships, and 2 gold medals in Class 4A. She was named a Nike Indoor Nationals All-American and finished high school with a PR of 13'4. She was awarded a scholarship to the University of Texas at Austin where she continues to compete
Four high school boys vaulted 16'0 or higher: Jason Colwick, Brad Settles, Blake Lierman, and Daryl Burrell
Twelve high school girls vaulted 12'0 or higher: Jessica Doyle, Britni Lawrence, Ari Ince, Aly Daily, Chaney Turney, Meredith Driskell, Kally Long, Kelsey David, Kelsey Wilson, Lauren Lucas, Alysia Scott, and Bekah Tibbitts
5 Junior Olympic National Championship Gold Medals: Ari Ince, Jessica Doyle, and Meagan Gray
College Coaching Highlights
Francisco Leon was a 2-Time All-American at the NCAA Division II National Championships, earning a Silver Medal in 2004. A native of Lima, Peru, he has also competed internationally in the Pan American Games, South American Championships, and Iberian Championships. PR 17'0
Ligia Bolivar has been a 2-Time All-American at the NCAA Division III National Championships and 4-Time Qualifier (twice indoors, twice outdoors) in just her first 2 years of college. PR 12'4
Geoff Fairbanks was the 2003 Southland Conference Champion and qualified for the Division I National Championships. PR 18'0
Jessica Raglon was a 2-time ASW Conference Champion and an All-American at the 2008 NCAA Outdoor Championships. PR 12'0
In 3 years coaching at Trinity University, Kris's women vaulters won 3 SCAC Conference Championship titles
Insights from Kris
Where It All Began
I began my love affair with the pole vault in the Spring of 1989 as a seventh-grader at Tri-Valley Central School in Grahamsville, New York. Our small K-12 campus did not even have a track, so we ran in the parking lot and pole vaulted off of an old abandoned blacktop tennis court, planting the pole into a hole we dug in the grass for a box. I can still vividly remember feeling forlorn at my first track meet at Ellenville High School as I failed to clear the opening height of 5'0 on their old torn-up dusty pit and asphalt runway in the wake of the obnoxiously pungent stench from a sewage treatment plant upwind from the track.

Since that time over 22 years ago, the art of jumping over things with a stick has grown to consume nearly every facet of my life, and my passion for this uniquely idiotic sport grows stronger with each passing season.
The "Best" Coach
Am I the best pole vault coach in Texas, The United States, or The World? I'll save you the suspense: no. The fact of the matter is, there is no one single coach that is the best coach for each individual athlete. While one coach may have a better wealth of technical knowledge, another may have a better understanding of training concepts, while yet another may simply be a better motivator or just plain more fun than the others. All of these strengths are a moot point though if you cannot communicate effectively with your athletes and get them to comprehend, buy-in to, and apply your system. I have been the best coach for a good number of young athletes that have outperformed athletically-superior competitors. With those athletes, things "clicked." On the flip side, I have also had some talented athletes run down my runways who did not improve under my watch. I may not have been the best coach for them.
My Strengths
As my good friend and mentor Doug "Bubba" Sparks once told me "I've tried everything that doesn't work, so the only thing left is what does work." My coaching theory and methodology have been evolving for over 16 years and continue to evolve every single day. I pride myself on being open-minded and unafraid to experiment with new drills, strategies, or techniques. I've tried them all; most of them have failed, some of them have worked. Some strategies have worked like magic with some athletes, but failed miserably with others. There is no one template that can encompass every athlete who steps onto the runway because each athlete is unique physically, psychologically, socially, and emotionally. While the science of coaching is in knowing which techniques are scientifically-sound, and what type of training is best suited to your event, the art of coaching is being able to teach and apply those concepts to the individual person. While I tirelessly research and study the science of the event to give my athletes the best information available, I feel my greatest strength lies in my teaching.

Having formerly been a Secondary English Teacher, I bring that classroom experience to the runway each and every day in practice. Structure, progression, and comprehension are paramount in our workouts. I do not want my athletes to do something just because I said so; I want them to understand the theory, rationale, and objective or "why" behind each activity in a workout. That is how you get them to "buy-in" to your system, and the ones I coached that did were the ones that performed to their potential.
"There Is No Magic"
As my dear friend, mentor, and fellow "pole vault tragic" Alan Launder has repeatedly said "There is no magic, no magic. . . just simple application of biomechanical principles." I don't possess a magic wand that I can waive and instantly produce astounding new PR's, fix a complex technical problem, or immediately take you to another level of ability. While some coaches may purport that they can do these things, true elite coaches understand that talent is by-and-large luck-of-the draw, and the measure of a quality coach and/or program is not how high its highest vaulter jumped or what competition they won, but how much each individual vaulter improved over the course of time. Does your program stand the test of time? Do your athletes make quantifiable, regular improvements not just in PR, but in technique, strength, speed, power, and coordination? What I offer is a promise and commitment to each and every athlete that runs down my runway that I will provide you with the very best instruction available and that I will never cease to continue to research, experiment, and apply new ideas.
And So It Continues. . .
Understanding and teaching the pole vault has become my personal quest for the Holy Grail. Each and every day I spend researching, studying, and pondering elements of technique, training, and learning. Every practice session is an experiment to determine whether to continue with an exercise, try to enhance that exercise, or delete that exercise from our regimen. No two workouts are ever exactly the same in my gym because no two pole vaulters are the same, and no single pole vaulter is the same from day to day. I truly truly love the pole vault. Every day I wake up in my home in New Braunfels and look forward to walking out the back door and into my gym in hopes of seeing the joy vaulters experience when they break new PR's. Thanks to the love, support, and patience of my wife Kristalyn, my sons Austin and Jackson, my parents Carl and Pattie Allison, as well as the rest of my family, I plan to continue my quest for pole vault perfection for the rest of my life.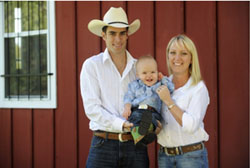 Kris Allison, November 2009